Roosevelt Watkins, III, MPA
Bethlehem Star M. B. Church, Senior Pastor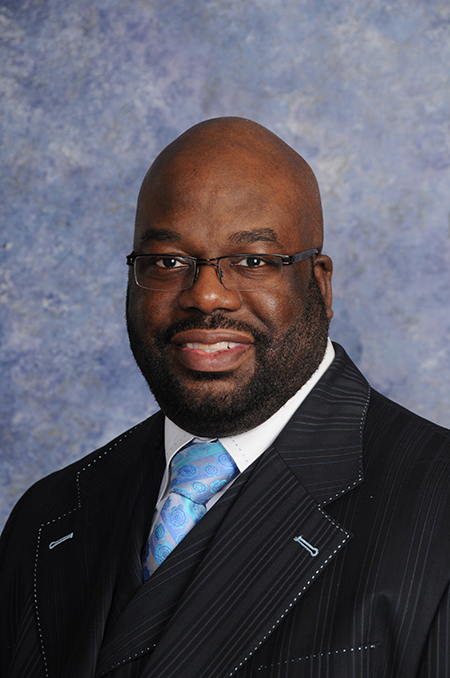 Roosevelt Watkins, III is a native Chicagoan having been born in Robert Taylor Housing and raised in Englewood. He is a product of the Chicago Public School system and graduated from Tilden High School. In addition, Pastor Watkins holds degrees from Western Illinois University, Political Science (BS degree), and Governor State University, Masters of Public Administration (MPA). He is married to Lady Phyllis Watkins who serves side by side with him in the ministry.
Pastor Watkins is Senior Pastor of Bethlehem Star M. B. Church, where he has served for over 20 years. He is a minister with a message, and pastors a church changing a community. He is a son of Fellowship M. B. Church, where he was baptized, licensed, and ordained under the leadership of Rev. Dr. Clay Evans. Pastor Watkins is a gifted communicator, teacher, and spirit filled preacher, providing information, illustrations, and inspiration. Pastor Watkins is a much sought after powerful preacher with a unique approach of bringing the Word of God to life.
A visionary, administrator, education reform advocate, and activist, are just a few words to describe Pastor Watkins. He is the CEO and President of H.O.P.E. Organization, a 501 ©3 community based organization. Under his leadership, The Reaching for the Stars After-school Program and HOPE Organization technology center was created. Pastor Watkins is also the creator and organizer of the safe haven after school program. A program where over 100 faith-based organizations provides, mentoring, tutoring, conflict resolution, and anger management to over 5000 students throughout the city of Chicago. Pastor Watkins serves as President of Pastors United for Change, and he is the National President of Ministerial Alliance Against Digital Divide, (MAADD). He is also a member of the Alpha Phi Alpha Fraternity, Inc. He is a recipient of many outstanding awards for his service to the community, and for his labor in the body of Christ.

Roosevelt Watkins III, continues to be a change agent, and a kingdom builder for the Lord. There is no doubt that he has been called by God, and that he is anointed and appointed for this season. Pastor Roosevelt Watkins, III, is a prolific teacher and preacher with a dynamic message of hope, deliverance, and restoration. Roosevelt Watkins is a social justice champion speaking truth to power, and speaking for those who have no voice to speak for themselves.